The Basics of Building a Balanced Plate – Dietitian's 4-Step Formula | Nutrition Month 2023
March is Nutrition Month, the perfect time to focus on healthy eating habits and lifestyle choices! The 2023 theme is unlocking the potential of food, reminding us that by making simple changes to our diets, we can improve our overall health and well-being, prevent chronic diseases, and support sustainable food systems. Throughout the month of March, we've partnered with Vitality Nutrition's Registered Dietitian Courtney Berg to share her best tips to help you improve your overall diet and maintain a healthy lifestyle. Click here to meet Courtney.
Take the guesswork out of preparing a nutritious and tasty meal with a Registered Dietitian's four step guide to building a balanced plate!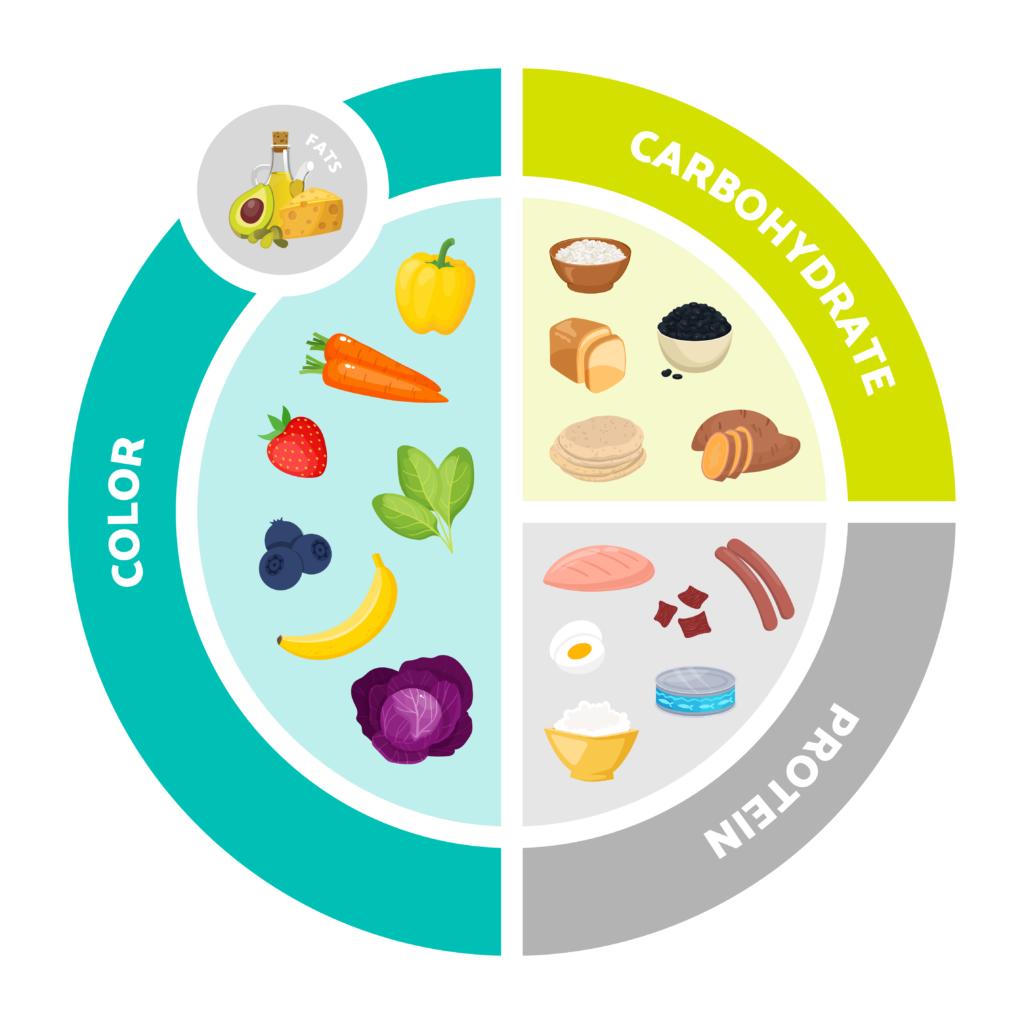 STEP 1: Color
Fill your plate with colorful vegetables and fruits. Vegetables and fruit offer beneficial vitamins, minerals, antioxidants, and fibre! Choose a variety of colours each day as each colour contains unique micronutrients (eg. orange vegetables and fruits offer vitamin A and green vegetables and fruits offer magnesium and folate).
There is a wide range of vegetables and fruits to choose from. Vegetables and fruits are nutritious whether they are purchased fresh, frozen, dried, or in cans. Choose vegetables and fruits that are in-season, fit your budget, or meet your taste preferences!
STEP 2: Protein
Build your balanced plate with a base of protein. Protein helps to keep you full for longer, stabilizes blood sugars, and maintains and builds muscle and other tissues. Protein can be found in animal-based foods like meat, poultry, fish, eggs, and dairy or plant-based options like tofu, tempeh, and beans and lentils.
Some examples of protein-rich foods include:
Meat (ground beef, steak, pork tenderloin, bison, wild game, and more)
Poultry (chicken breast, rotisserie chicken, turkey, ground turkey, and more)
Seafood (salmon, tuna, pickerel, trout, halibut, cod, shrimp, oysters, scallops, and more)
Eggs (whole eggs, egg whites)
Dairy (Greek yogurt, cottage cheese, milk, whey isolate, and cheese)
Beans & Lentils (canned beans, dried beans, bean or lentil pasta, plant-based protein)
Soy (tofu, tempeh, edamame, and soy milk)
It's important to note that foods beyond the list above may provide protein but in smaller amounts. For example, peanut butter, nuts, seeds, and whole grain breads contain some protein!
STEP 3: Carbohydrates
Integrate a carbohydrate onto your plate to provide accessible energy to your brain and body. Carbohydrates can be higher in fibre or lower in fibre. Choose higher fibre carbohydrates more often to support gut health and contribute to stable blood sugars!
Some examples of fibre-filled carbohydrate foods include:
Grains (multigrain bread, oats, quinoa, brown rice, barley, multigrain crackers, popcorn, white rice, whole grain breakfast cereals, pasta, and more)
Starchy Vegetables (white potatoes, sweet potatoes, yams, corn, squash, plantains, taro, and more)
Beans & Lentils (canned or dried beans, lentil or bean pasta, and others)
Vegetables and fruits contribute carbohydrates to the meal as well. We'll categorize vegetables and fruits as "color" when building our four-step balanced plate to differentiate the unique benefits they offer to the meal.
STEP 4: Fats
Decorate your meal with a source of fat. Fats provide a source of energy, keep you feeling full for longer, regulate blood sugars, enhance the absorption of certain vitamins, and are involved in the production of hormones. Plant-based fat sources like avocado, chia seeds, flaxseeds, nuts, and dark chocolate contain beneficial fibre!
Some examples of fat sources include:
Nuts (peanuts, almonds, walnuts, peanut butter, almond butter, pecans, and others)
Seeds (pumpkin seeds, sunflower seeds, chia seeds, flaxseeds, hemp hearts, and others)
Dairy (cheese, higher milk fat yogurts, sour cream)
Oils and fats (olive oil, avocado oil, butter, canola oil, and others)
Other (olives, dark chocolate, avocado, coconut milk, unsweetened coconut shreds, and more)
BONUS STEP: Flavour
It's beneficial to build a nutritionally dense plate that contains the protein, carbohydrate, fat, vitamins, minerals, and antioxidants needed to nourish your body from the four food groups described above. However, it is also important to satisfy your taste buds by incorporating spices, herbs, or condiments that enhance the flavour of what you are eating. Choose herbs, spices, and condiments that are low in added sugar or fat when possible!
Some examples of herbs, spices, and condiments to enhance flavour include:
Herbs (fresh or dried basil, oregano, dill, cilantro, and more)
Spices (chili powder, cumin, paprika, garlic powder, onion power, curry, turmeric, cinnamon, cloves, and more)
Condiments (mustard, hot sauce, sriracha, low-sodium soy sauce, curry paste, pickled vegetables, low-sugar barbecue sauce and ketchup, salsa, and more)
Examples of Building a Balanced Plate
Breakfast
Omelet
Protein: eggs or egg whites
Carb: multigrain bread
Fat: cheese in the omelet or avocado on toast
Color: vegetables in the omelet (eg. mushrooms, peppers, spinach, others)
Flavour: hot sauce or salsa
Peanut Butter Banana Smoothie
Protein: Greek yogurt, protein powder, or a higher protein milk like dairy or soy milk
Carb: oats
Fat: peanut butter
Color: frozen banana
Flavour: cinnamon

Lunch
Chili
Protein: extra lean ground beef, ground turkey, or beans and lentils
Carb: beans and lentils, sweet potatoes, or corn
Fat: sour cream, cheese, or avocado slices
Color: onions, canned tomatoes, bell peppers, and more
Flavour: chili powder, cumin, and others
Easy Charcuterie
Protein: deli turkey, sausage, or roasted chickpeas
Carb: multigrain crackers or rice crackers
Fat: hummus, cheese, olives, and/or pesto
Color: raw vegetables or fruit like an apple or pear
Flavour: pickles
Supper
Tacos
Protein: pulled chicken, extra lean ground beef, black beans or lentils, or ground turkey
Carb: corn or flour tortilla
Fat: cheese, guacamole, and/or sour cream
Color: tomatoes, lettuce, peppers, onions, and more
Flavour: salsa, hot sauce, and more
Stir-Fry
Protein: chicken, steak, or shrimp
Carb: brown rice
Fat: oil to cook or toasted cashews or peanuts on top
Color: onions, carrots, bell peppers, snap peas, green beans, and others
Flavour: soy sauce

Snack
Greek Yogurt Parfait
Protein: Greek yogurt
Carb: granola
Fat: pumpkin Seeds
Color: frozen Berries
Travel Friendly Snack
Protein: beef jerky or roasted chickpeas
Carb: air-popped popcorn
Fat: almonds or cheese
Color: apple or raw vegetables
Meet Courtney Berg, RD, B.Sc. Nutrition
About Courtney  |  Courtney Berg is a Registered Dietitian and completed her Bachelor's Degree in Nutrition from the University of Saskatchewan in 2016. Her approach to nutrition continues to evolve as she learns and grows with her clients at Vitality Nutrition. However, a holistic approach remains the base of her philosophy with an emphasis on understanding how nutrition as well as sleep, mindset, exercise, and the environment work together to influence whole body health.

About Vitality Nutrition  |  Vitality Nutrition is a collective of Registered Dietitians and Nutritionists supporting clients in Saskatchewan and across Canada! We incorporate a unique and meaningful approach to food, fitness, and performance that empowers clients to build life-long habits and see lasting results.